Recording monthly and annual changes in the La Plata County real estate market helps us identify key changes and patterns as we near the last quarter of the year. The Durango Area Association of REALTORSⓇ compiles these statistics into data sheets for easy comprehension and comparison.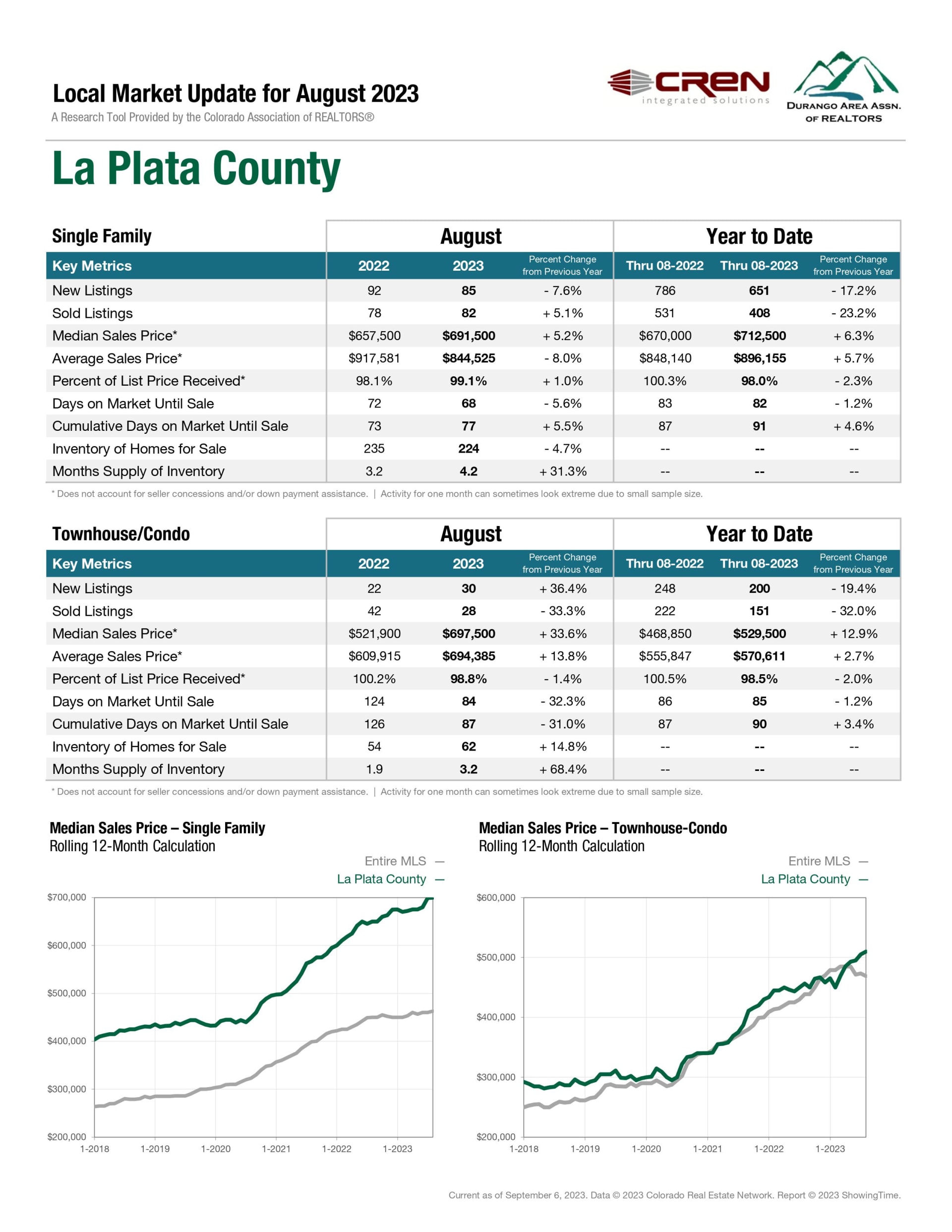 La Plata County as a whole has seen a slight decrease in new single family listings compared to last August. However, there was a small increase in the number of homes sold. Year to date, both new listings and sales are down about 20%. The median and average sales prices increased approximately 6% to $712,500 (median) and $896,155 (average). 98% of the list price was received, which is down slightly from 100%. Days on market is very similar at 82. Year to date, townhouse/condos saw less new listings and sales activity. The sales prices rose to a median of $529,500 and average of $570,611. 98.5% of the listing price was received with 85 days on market until sale.
Durango rural had just under half of the total single family market listings and sales in August 2023. Still there were less new listings and sales year to date. The median sales price increased 6.8% to $827,500 and the average 6.3% to just over $1,000,000. In town Durango, there were 15 single family listings and 19 sales totaling the year at 117 listings and 87 sales. Year to date, the median sales price is up 7.9% at $775,000 and the average increased 3.4% to $897,236. In town townhouse/condos were also slightly down in activity for the year with elevated median and average sale prices.
Bayfield had a total of 21 single family listings and 19 sales in August totaling the year with 147 listings and 95 sales with about 75% of the activity in the rural area. The median in town sales price is now at $496,450 (up 6.8%) and the rural median is down 5.3% to $535,000. Ignacio had 3 new listings in August with an annual total of 18, a 33% decrease from last year.
We are seeing year over year appreciation levels settle back to where they were prior to 2020, which is good news for Buyers and our real estate market as a whole. We are eager to see how the last few months of 2023 play out. Please don't hesitate to reach out with any questions as we would love to assist you on your real estate journey.