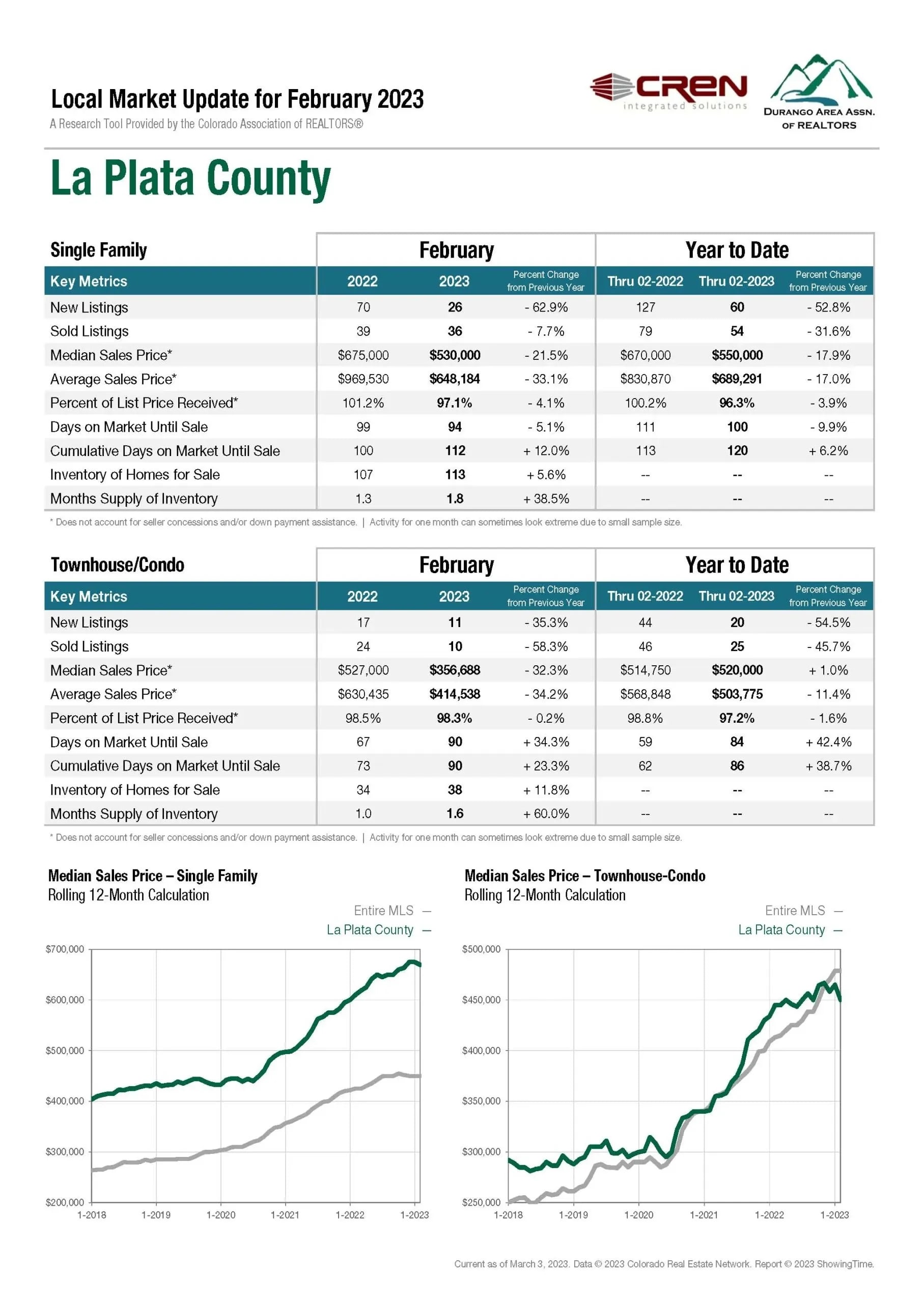 The
Durango Area Association of Realtor®
compiles monthly real estate statistics for La Plata County and the towns and cities within. This is a valuable insight into key metrics, trends, and ideas on where the future months may go in our local real estate market.
February is typically a slower month in real estate with the colder weather and deep snow. In 2023 there were just 26 new single-family listings and 36 sales in La Plata County. This is in contrast to February 2022 when the real estate market was still booming due to Covid factors, with 70 new listings and 39 sales. The 2023 median sales price is now $550,000 with an average of $689,291 which is overall 17% lower than last year. The inventory of single-family homes is slowly increasing, which is good for new buyers. Townhomes/condos followed similar trends with a decrease in activity and slightly decreased sales prices.
Durango in town saw a 54% decrease in listings but a 43% increase in sales with the median price rising to $775,000 for February 2023. However, less of the list price was received and inventory increased by 37.5%. In rural Durango, there were 12 new listings which are about half of February 2022. The 11 sales are about 60% of last year, and the median sales price decreased 37% to $510,000.
In rural Bayfield, there has been 73% less activity this year so far than through February 2022. With only 2 new listings and 5 sales in February 2023, the median price has decreased to $375,000. In town, there was also less activity than last year with 3 new listings and 5 sales. In town, Bayfield has had a significant increase in inventory with 8 homes which is 1.4 months supply. Ignacio as a whole has 2 new listings and 3 sales in February 2023. In town, the median price is now $398,500 an 84% increase from last year and the rural sales price median is $550,000 which is a 20% increase.
Although these statistics show less activity and some median sales prices are decreasing, we do not believe that the market is crashing. Rather, due to factors like increased interest rates and a shift in demand, the market is slowing down to a normal depreciation from an all-time high. If you have any questions regarding the La Plata County real estate market please reach out, we are always happy to talk with you.