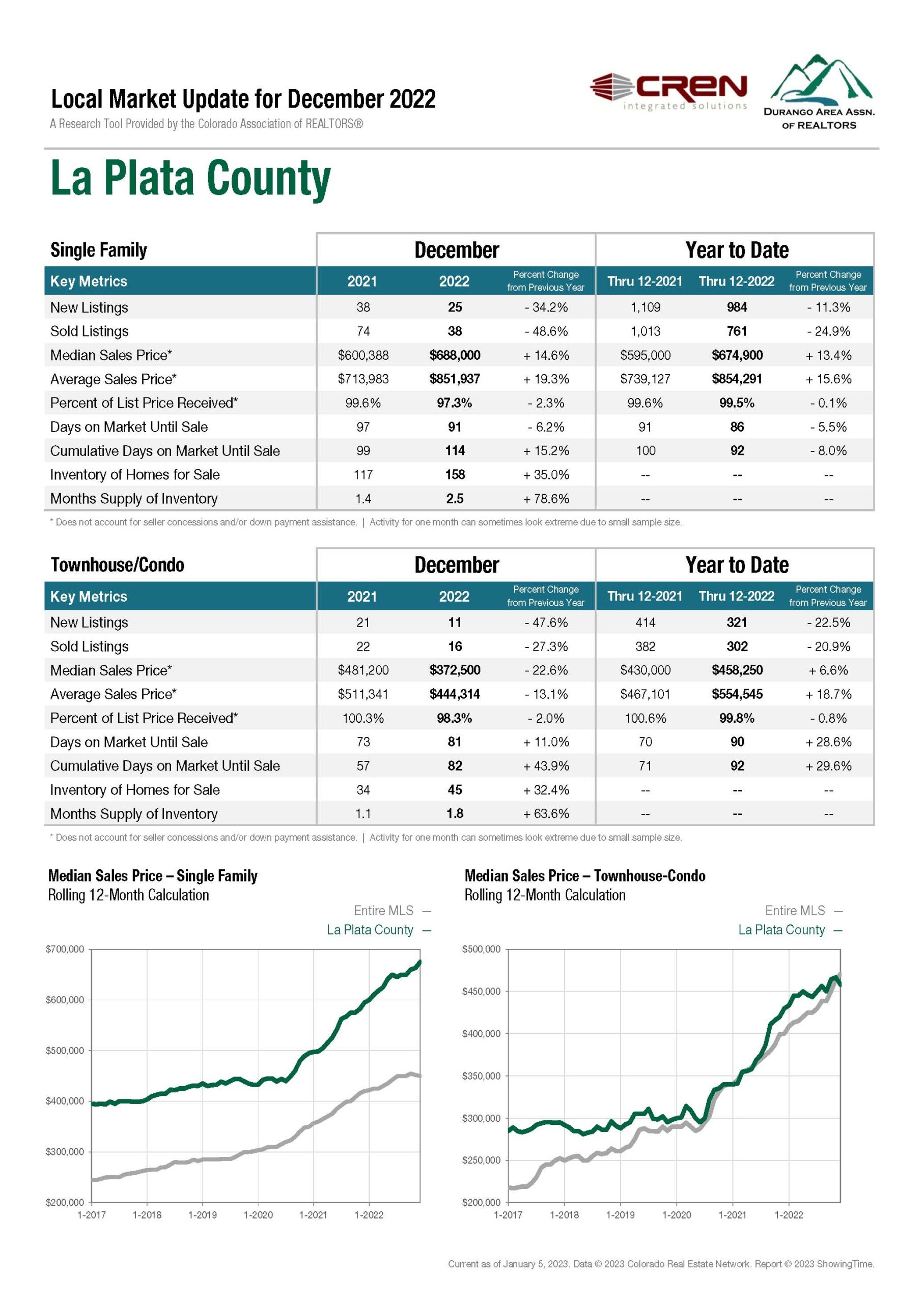 With the entirety of 2022 real estate market statistics to review, there is much to discuss! Similar to 2021 and 2020 we saw prices continue to increase in nearly all areas of residential real estate. 2022 was a tale of two stories; the first part of the year and the second are much different. During the first part of the year, we continued to see bidding wars, multiple offers, and homes selling in just days. As the year progressed, the Fed started aggressively raising interest rates, more than doubling from the beginning of the year to the end of the year. This steep and rapid increase has certainly hurt the real estate market. For perspective, if you were getting a loan for $400,000 your payment (principal and interest) would have been $1796/month at 3.5%. Rates now are around 7%, which would make the monthly payment on the same loan $2661/month. This is undoubtedly pushing some buyers out of the market, especially in Durango.
Looking back at 2022, there were a total of 1,060 residential sales in La Plata County, which was a decrease of 330 sales (a 23.7% decline) compared to 2021. This is undeniably a result of continued low inventory in La Plata County. The good news for sellers and homeowners is the median price of homes in La Plata County increased 13.3% to $617,500. The average sales price also increased significantly to $768,734 (from $666,013 in 2021), which is a 15.4% increase. One noteworthy factor contributing to this increase is the result of 213 homes selling for over $1 million last year. We saw a small decrease in days on the market again from 87 days in 2021 to 86 days in 2022. Had interest rates not increased so quickly in 2022, we believe the days on market would have been closer to 60 days, but homes sat on the market longer during the second half of the year.
2022 was another strong year for price growth on Durango in-town properties. The median sale price in 2022 was $760,000 ($650,000 in 2021), which is an increase of 16.9%. To put this in perspective, consider in 2019 (just 3 years ago!), the median home price for in-town Durango was $506,625. When you compare that to 2022's, $760,000 median home price, we are looking at a price increase of 50% in just 3 years.
Bayfield saw a drop in the total home sales for both in-town and rural areas, ending the year with 190 units sold in 2022 (compared to 214 in 2021), a decline of 11.2%. Similar to Durango, median home prices for both in-town and rural properties in Bayfield experienced strong growth. In-town the median home price jumped to $463,750 (an increase of 16.2%), and the median rural home price landed at $545,500 (up 22.9%). The Bayfield area also saw a pretty sharp decline in days on market going from 79 days in 2021 to only 65 days in 2022.
What can we expect in 2023? At this point, we believe the first and second quarters will be slower than what we have seen in the last few years. This will likely be driven by continued high-interest rates and low home inventory for buyers to choose from. There are several factors contributing to the low inventory levels, the first of which is high-interest rates. We believe there are a lot of would-be sellers that will delay selling their homes because they do not want to lose their current low-interest rate (most likely around 3%). Until rates drop, most homeowners are going to stay put. The second contributing factor is the high cost of materials, labor, and land, which has resulted in very high prices for new construction. Due to the increased investment cost and lower margins for builders, we do not foresee much new construction hitting the market in 2023. With the continued low inventory, we do not expect prices to drop. Buyer demand looks to remain stable, which will in turn keep prices stable this year. We anticipate interest rates will start to decrease toward the middle of the year, leading to stronger 2nd and 3rd quarters.
We hope you all are having a great start to 2023. Do not hesitate to contact us with any real estate questions or needs!