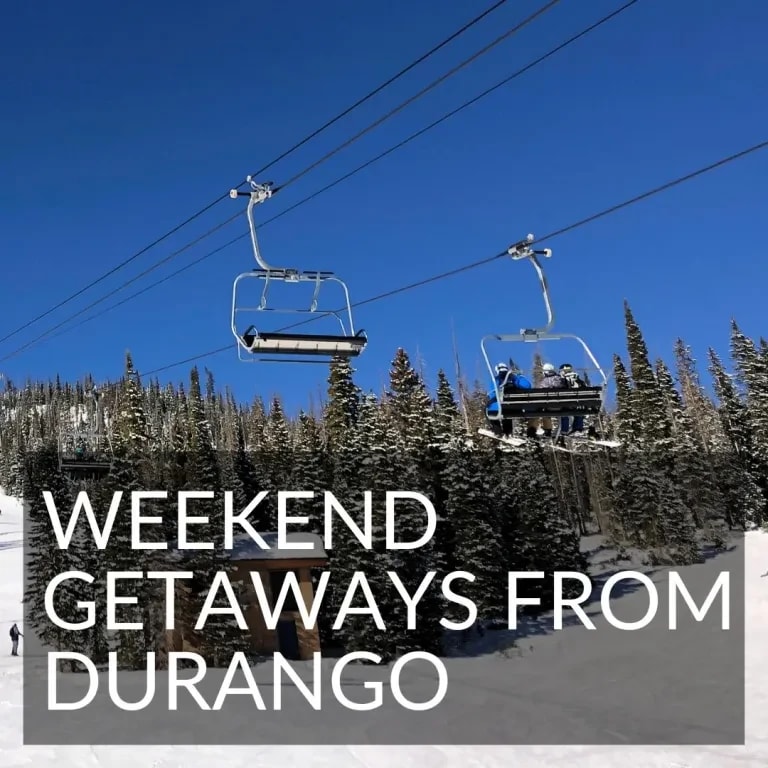 While Durango offers so many enjoyable winter activities in our backyard, our nearby towns and cities offer great weekend getaway destinations. Durango, a connecting point of Highway 160 running East and West and Highway 550 going North and South, means that we're a hub for many Southwest Colorado (and beyond!) adventures.
To the North:
The
San Juan Scenic Skyway
takes you on a mountain journey over many beautiful passes and into quaint Colorado towns. Taking Highway 550 North, the first town you will reach is Silverton. With a population of 651, this little town is a hidden gem. Not only does it have a Main Street filled with local retail shops, cafes, and restaurants and the
Durango and Silverton Narrow Gauge Railroad
train station, but offers a high mountain setting that is a hub to 4 wheeling, backing, backcountry skiing, and snowmobiling. Ouray is 23 miles past Silverton and provides a similar small-town atmosphere in a steep mountain valley. Here you can experience similar activities with the addition of hot springs. You can continue The Loop to visit the infamous Telluride for 5-star resorts, a ski mountain, and a chic downtown scene!
To the East:
Exactly 60 miles on Highway 160 East is Pagosa Springs. This town is home to
The Springs Resort and Spa
offering a relaxing atmosphere with 25 different soaking pools fed from the world's deepest geothermal hot springs.
Wolf Creek Ski Area
, is just past the summit of Wolf Creek Pass, 25 miles north of Pagosa Springs. With "the most snow in Colorado", powder days are common here and the hot springs make for a great stop afterward!
To the South:
Ignacio is just 30 minutes to the southeast of Durango and is home to the Sky Ute Casino and Resort. Perfect for winter days too cold to be outside, their Thunder Lanes Bowling Alley, arcade, casino, and restaurant offer fun for the whole family. An hour south of Durango, across the state line, is Farmington, New Mexico. In the closest "big city" you can enjoy shopping at big-name stores, New Mexican food, and escaping some of the snow chills.
To the West:
Being so close to the Four Corners National Monument, Utah, and Arizona are just a few hours away. However, the closest destination city is Moab, which is about 3 hours northwest of Durango. Moab is an outdoorsy town with Jeep tours, camping, skydiving, and a gateway to
Arches National Park
.
Canyonlands National Park
is also close by and is a stunning high desert scape. While generally receiving much less snow than in Colorado, the temperatures can still get below freezing.
In all directions, there is a great weekend winter trip whether you want to enjoy the deep snow or trade it for a little desert reprieve. While Durango has it all, it is nice to be located centrally in more great cities and towns. If you have any questions about winter activities in or near Durango, please do not hesitate to ask.