Durango is a hub for many activities including a day trip along the San Juan Scenic Byway. Coined "The Loop", you can connect four noteworthy stops starting and ending in Durango. The Loop takes five hours by car and you have time to stop at viewpoints, lunch, stroll main streets, and still make it back to Durango for dinner. You can travel either north or west and experience the wonders of these 233 miles. For the itinerary, we will travel counter-clockwise by heading North.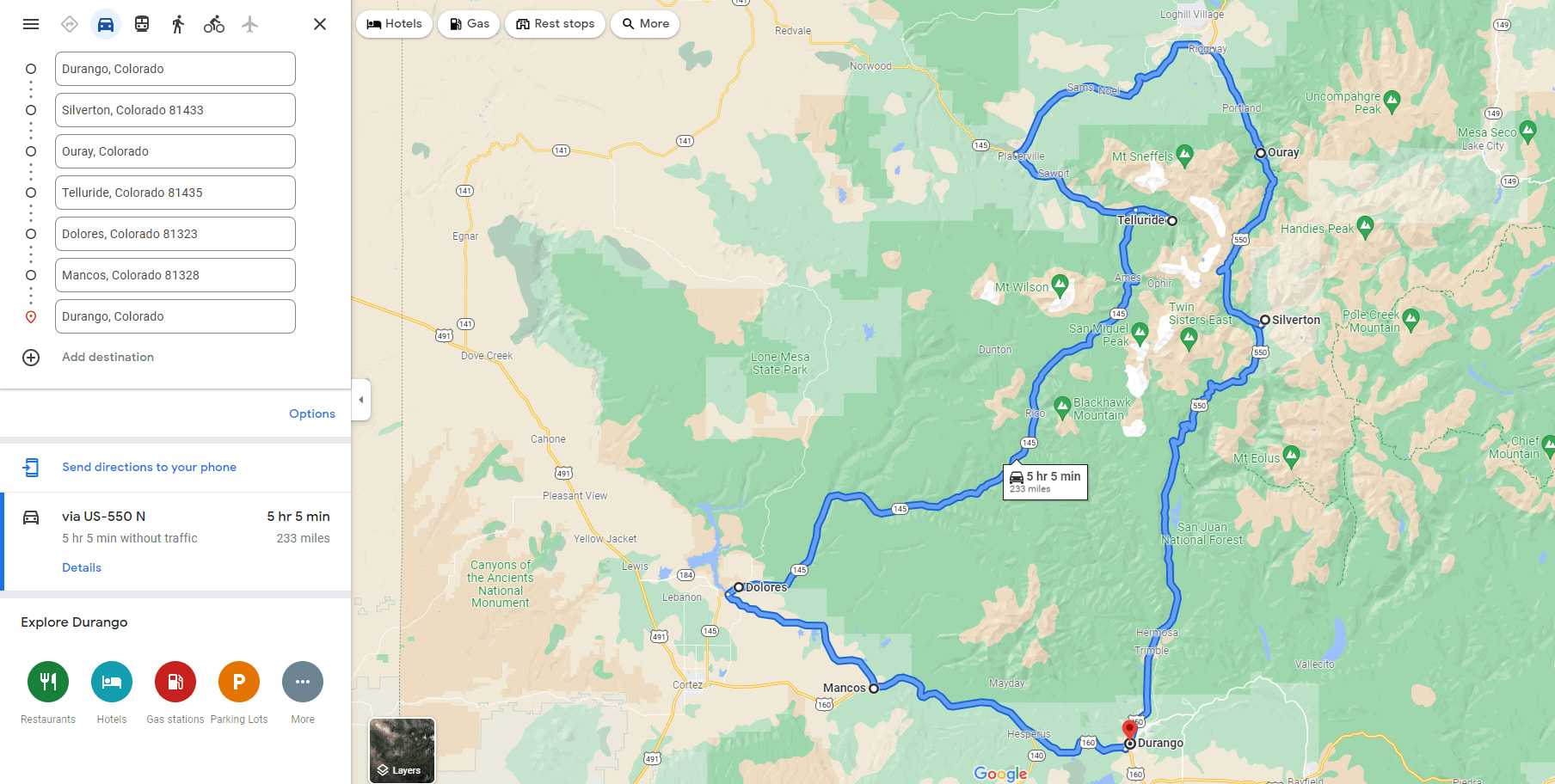 Durango to Silverton
Beginning in Durango head north towards Silverton on Highway 550, also known as the Million Dollar Highway. Originally built in the 1880s, this winding road takes you over Coalbank and Molas Passes. You will pass Durango Hot Springs, Purgatory Ski Resort, enjoy close up views of Engineer Mountain, and find plenty of camping spots, hiking trails, and picnic lakes. About an hour later, descending into Silverton, you see wonderful views of the little mountain town nestled in between many mountains including Kendall Peak to the East. As the other end of the Durango and Silverton Narrow Gauge Railroad, this little mining town has restaurants, cafes, shops, and history!
Silverton to Ouray
The next leg takes you further North through more winding roads and over Red Mountain Pass to The Switzerland of America: Ouray. With steep cliffs both East and West of the Main Street, Ouray is dotted with shops, hotels, and campgrounds. Ouray Hot Springs offers relaxation in the natural hot water and family fun with water slides. Box Canyon Falls is a magnificent example of water erosion and provides access to the perimeter trail stretching 6.5 miles around the little town. With pristine access to ice climbing, a Via Ferrata, and 4WD trails, Ouray is an ideal spot for exploration.
Ouray to Telluride
Continuing on the Byway, you pass through Ridgeway then start heading west. The turn in Placerville will send you south towards Telluride. Take a detour off the highway into the cul-de-sac of Telluride which backs up to Black Bear Pass and Bridal Veil Falls. The quaint main street has lovely shops, restaurants, and cafes. Their free gondola is a great way to get elevated views and access to hiking, biking, and skiing. Just above the town, and accessible by gondola, Mountain Village is an upscale collection of houses, condos, hotels and restaurants.
Telluride to Durango
Back on the highway, heading south, you go over Ophir Pass and gain views of Trout Lake, Mount Wilson, and Lizard Head. Blink, and you'll miss the little town of Rico! Farther south is Dolores, another great access point to trail heads, camping, and fishing at McPhee Reservoir. The final town is Mancos, followed by views and the entry point to Mesa Verde National Park. From there, just a half an hour left until returning to Durango.
The Loop is simple, but the opportunities are endless for hiking, biking, fishing, 4WDing, swimming, camping, skiing, shopping, and much more. The passes do get snowy in the winter months and may close. Spring and fall in the Rockies showcase wonderous colors. Summer is prime time to explore with little precipitation and long days. Whenever you decide to take this epic day trip, make sure to know your route, respect nature, and have fun! Don't hesitate to reach out with any questions about Durango or the surrounding area mentioned in this itinerary.