Our area is fortunate not to have tornadoes, tsunamis, earthquakes or hurricanes. Instead, Southwest Colorado, along with many other parts of the western states, are no stranger to wildfires. Wildfires can start due to many reasons including lighting strikes, campfires, and more. A flame can smolder for days without smoking or other tell-tale signs before fully igniting. Hot, dry, and windy conditions create the most apt climate for wildfires to start and spread.
Fire Mitigation
Fire mitigation practices help prevent a wildfire from harming your property, especially your home and other buildings. Knowing the three home ignition zones guides what work needs to be done to protect your home. This includes removing flammable materials such as pine needles, firewood, and tree branches according to each zone. Ensuring your home has a Class A fire roof, tempered glass windows, six vertical inches of space between the ground and siding and these checklist items add additional protective measures. These steps are especially important if you live within the wildland-urban interface (WUI) which means any man-made structure in or close to flammable vegetation. Local programs like Wildfire Adapted Partnership provide a plethora of resources and even provide experts to come to your property to help mitigate.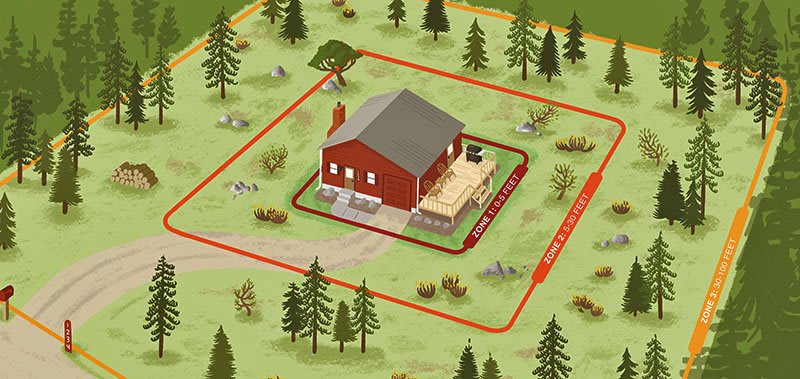 Home Safety
If a wildfire does ignite near your property, follow the Colorado Division of Homeland Security & Emergency Management's pre-evacuation list. Items include organizing important documents, mementos, and anything else you can't live without in your car, ready to go; filling pools, ponds, and any other bodies of water surrounding your home; shut off any propane, gas, or other fuel supply at the source; have a plan for getting any pets out safely; and keep updated with local news for any evacuation notices or other updates. Another great resource is to sign up for CODERED reverse 911 notices so that you receive messages in the event of a nearby fire.
Community Mitigation
Durango, Colorado and other surrounding communities take initiatives to mitigate public lands as well. This may include prescribed burns which are fires that are carefully planned and monitored by local fire departments to burn the flammable vegetation prior to a wildfire using it as fuel. The City of Durango uses Open Space sales tax to fund "Stewarding healthy and fire resilient forests goes beyond removing hazardous fuels. Activities carried out by the Parks and Recreation Department on open space lands include mitigation of noxious weeds, protection of wetlands and river corridors, and reductions of ignition risk by managing recreation and public access."
Knowing the dangers and precautions empower you to protect your investments. Our fruitful winter may reduce the likelihood of a large and destructive fire. Home fire insurance is also an important measure to have in place. We also recommend doing a video walk thru of your home and belonging in case of a loss. Please let us know if we can provide further fire mitigation information and local fire details.