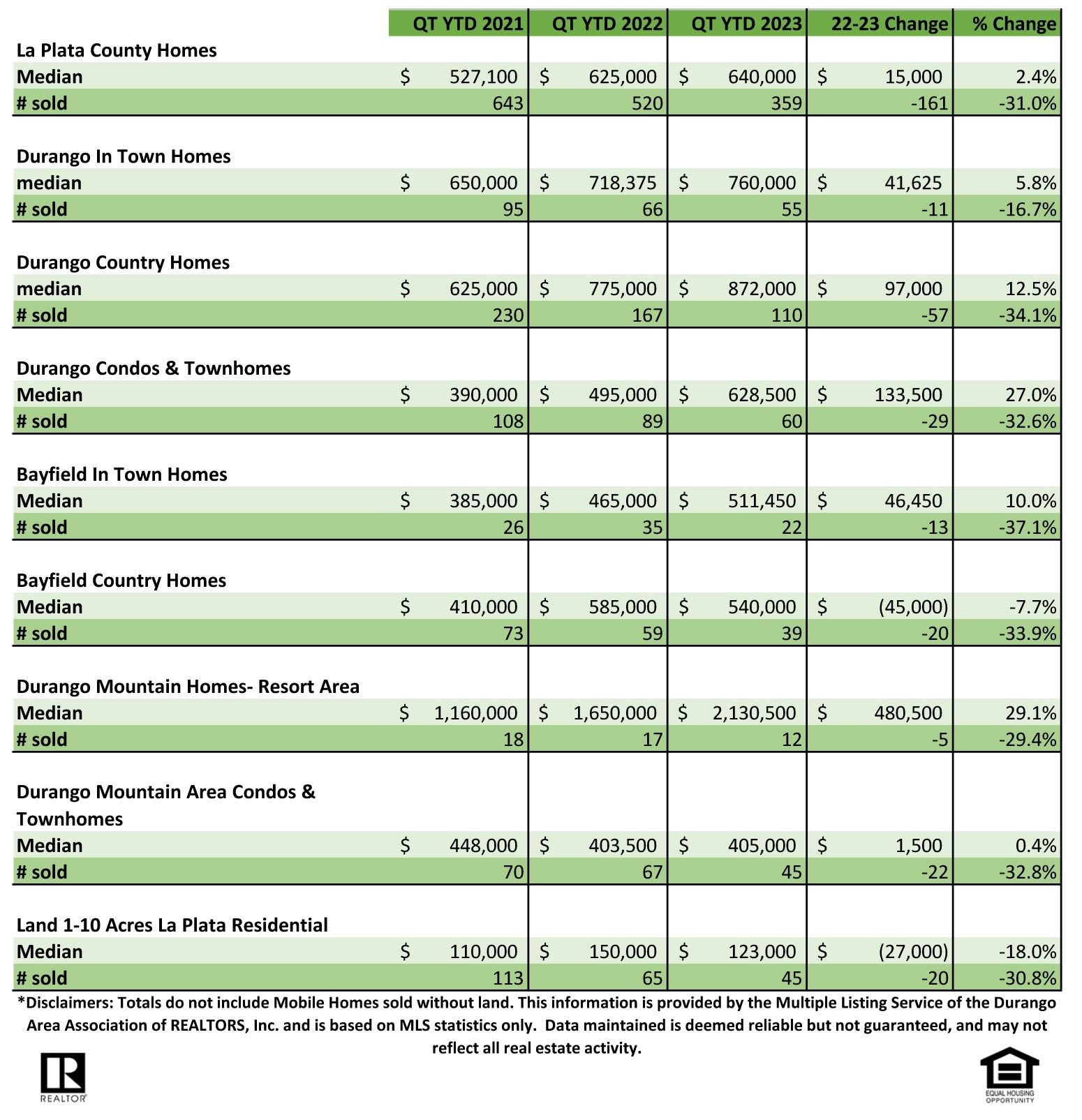 The La Plata County real estate market saw increases in median and average sales prices across nearly all market segments in the 2nd quarter. This is particularly good news for homeowners in Bayfield; prices rebounded in Q2 for both in town and rural properties from the dips in Q1. While the information below shows that Bayfield rural home prices have decreased, this is year to date information, and increases in both median (6%) and average (12%) during 2nd quarter are bringing these numbers back in to balance. This same trend occurred for La Plata County rural homes as well, with a 17% median and 12% average sales price increase. In town Durango homes have settled back in to a 5% increase which is more customary than the large jumps in the last 3 years.
The real estate market remains significantly impacted by the increase in interest rates – many homeowners are not eager to give up their 3% (or lower) interest rate in exchange for a higher priced home at a 6.5 – 7% interest rate. This is evidenced by an average of 30% fewer homes sold than this time in 2022. At the beginning of the year, economists were expecting interest rates would drop towards the end of 2023. It is now predicted that those reductions may not occur until Q1 or even Q2 of 2024, and potentially one or two more increases in the coming months.
The average days on market has been consistent with the 2nd quarter of 2022 in most market categories, but still much lower than pre-pandemic days. We are still in a seller's market, however sellers are strongly encouraged to more closely follow market pricing rather than pushing the price up to see if the market will respond. As a result of this shift, we are seeing more price reductions than in 2020 through early 2022, which is positive for active buyers.
Please contact your trusted Realtor® for a deeper dive in to your specific market of interest.